OVER 30 YEARS
Providing Specialized Products & Services
To the engine Industry Worldwide
TH125R-1
Output Power :

125

Amps :

1.1

Voltage :

120

Power Source :

AC

Gas Engine Capacity :

2-4 US Quarts

Diesel Engine Capacity :

2-4 US Quarts

Auto/Manual Transmission :

2-16 US Quarts

Hydraulic Tank Capacity :

4-40 US Quarts

Water Tank Capacity :

20-100 US Quarts

Weight (lbs) :

0.5

Width (inches) :

3

Height (inches) :

3
Industrial Diesel Products has been selling engine heaters since 1992.
TITAN pad heaters for diesel engine, transmission, and hydraulic heating are distributed worldwide; during the past 20 years shipments have been delivered in over 20 countries.
TITAN Pad Heaters are 0.075" (1.9mm) thin flexible silicone heating pads that are attached to the outside of an oil pan or metal fluid reservoir such as a hydraulic tank or water tank. The pad incorportes a special "hi-tech" peel back adhesive on one side that bonds onto the metal surface. Once installed, the heater pad will never fall off.
TITAN Pad Heaters are supplied with an installation kit and instructions for a complete installation; no special tools or skills are required.
No hoses to cut, frost plugs to remove or loss of antifreeze.
Remember, heat rises up!
TITAN Pad Heaters can be custom designed for individual commercial applications.
Price in US$$
Made in the USA

UL recognised component

BONDS to Oil Pan or Fluid Reservoir

RAISES Oil Temperature to Operating Levels

IMMEDIATE Oil Pressure Throughout Engine

IMPROVES Crankability

EXTEND Starter Motor Life

REDUCES Cold Start Wear

WARMS Important Internal Parts

REDUCES System Warm-up Time

NO Maintenance

IDEAL for Hydraulic Tanks

WILL NOT Burn Out Like Immersion Oil Sump Heaters

Electrical cord length 6 feet with sealed three point plug
Lifetime Warranty



PERFORMANCE IMAGES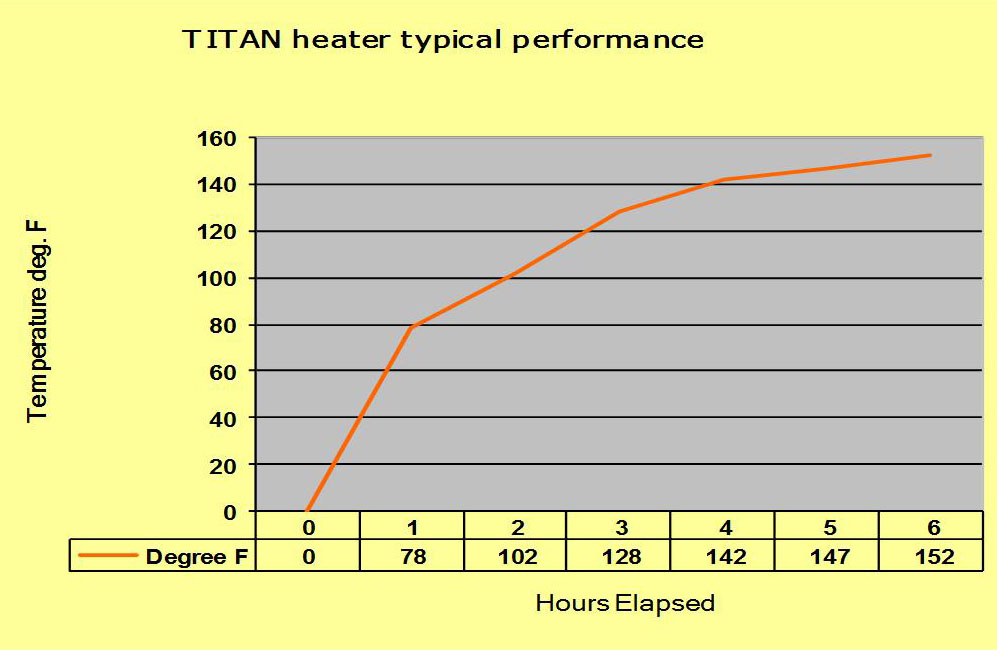 Raises oil temperature 100°f in less than two hours


TYPICAL APPLICATION
Cars

Vans

Trucks

Cranes

Gearboxes

Compressors

Transmissions

Water Pumps

Snow Ploughs

Hydraulic Rams

Generating Sets

Marine Engines

Aircraft Engines